As the weather cools down, there's nothing better than an inviting bedroom, the centerpiece of which is a cozy bed. Here are ten examples of
comfy bedding and bed accents that will make you want to curl up in them this winter.

Source
I Love this knit-look duvet cover. It makes the bedding look like it can double as a sweater.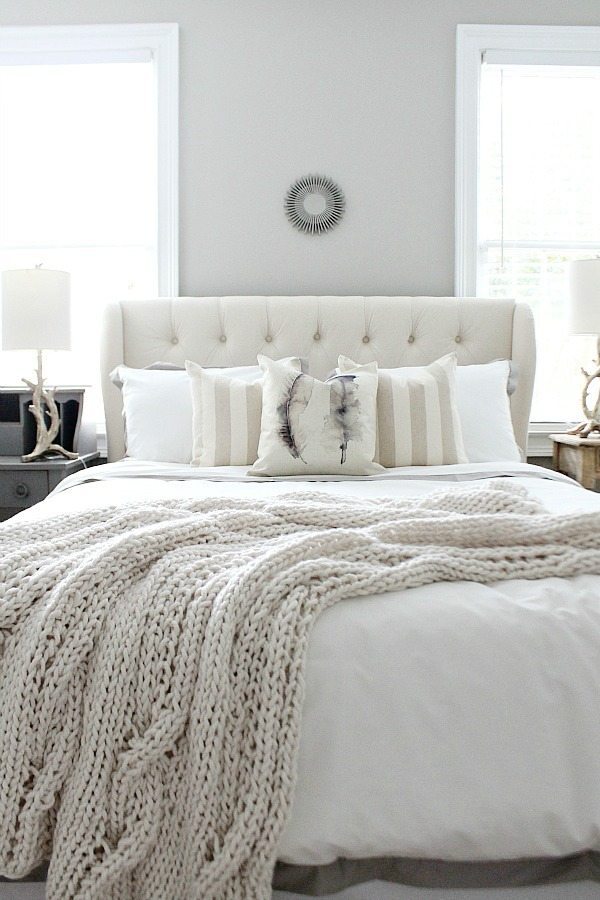 Source
The upholstered headboard, the knit coverlet, and the neutral throw pillows give this bed a bright, comfy look.

Source
A bright, white bedding set could look formal, but when the bed is made casually and the bedspread is paired with textured throw pillows and a high contrast coverlet, the effect is homey and welcoming.

Source
Whether they are in pillow shams or simple pillowcases, having extra pillows always ups the cozy factor on a bed. This is especially important when putting bedding in a guestroom.

Source
This grey quilted bedspread in a small, geometric pattern pairs perfectly with a chunky fur-look blanket and a crisp egyptian cotton sheet set.

Source
Nothing says "cuddle up here all winter" like a plaid flannel bedding collection. Seen here in a tartan red duvet cover and pillow shams, which pop against the dramatic bedroom wall color.

Source
Texture, texture, texture! This bed is begging to be climbed into because of the layering of knit, quilted, and linen bedding, all in creamy neutral tones.
This is a perfect example of the hot-right-now pin-tucked bedspread. The softness of the colors and pin-tuck texture play off the sharp geometric throw pillows for an overall welcoming and on-trend look.

Source
Natural textiles and neutral tones give this bed it's comfy look. The seersucker duvet cover and understated paisley coverlet layer so perfectly that not even the family dog can resist.

Source
Dark, luxurious bedding makes this dramatic bed cozy while gold embellishments on the sheets and throw pillows give it a chic factor. Add some twinkly lights and voila: a perfect bed to pass the morning in.